You can also try switching on different parts of the soundtrack from this mp3 player:
If you don't see the video and mp3 windows above, please install Adobe's free Flash Player.
"Hermafrodiitit" (23 minutes, 2 x super 8mm) is available for screenings at festivals and other events.

(The Wire, UK, July 2008)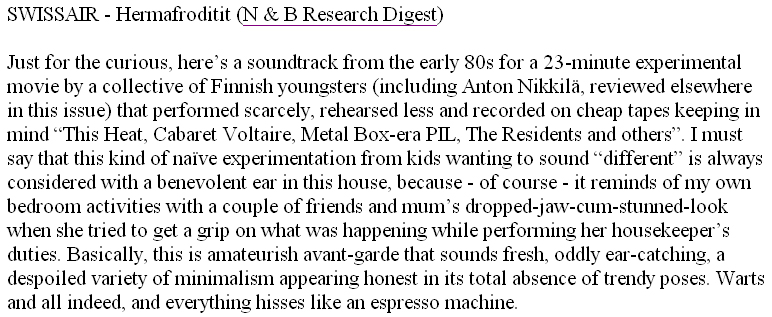 (Massimo Ricci, Touching Extremes, Italy, September 2008)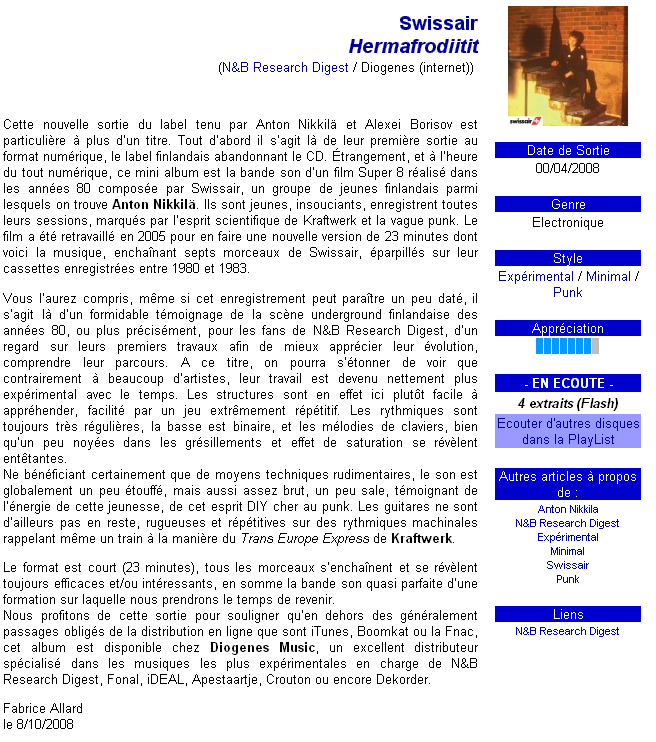 (EtherREAL, France)
Wie sechs 16-jährige auf die Idee kommen, 'wissenschaftliche Musik' zu machen, seltsam. Anton Nikkilä, Mika Taanila, Juha Soivio, Pietari Koskinen, Jari Härkönen und Mikko Kuussaari stellten aber 1980 ihr Projekt SWISSAIR und mit Valtavat Ihmesilmälasit Records gleich auch ihr eigenes Kassettenlabel auf die Beine mit genau dieser Ambition. Dazu ließ Taanila schon eine Super-8-Filmkamera rollen. Der 23-min. Soundtrack from the film Hermafrodiitit (NBRD-09DD) gibt einen akustischen Eindruck von diesen Jugendsünden, wobei der Klangmulm in Lowest-Fidelity das Bemühen erkennen lässt, mit Gitarrengedröhn, minimalistischen Bass- und monotonen Maschinenbeats stoisch-nüchterne Statements zum alltäglichen Grau in Grau abzugeben. 15. joulukuuta 1981 (NBRD-13DD), einst eine C-30 auf dem eigenen Label, zeigt die Youngster dann ganz weit draußen als 'Neo-Primitivisten' und 'Post-Webernianer'. Die Aufnahme ist so rauschig, dass der Tapenoise eine eigene Qualität annimmt. Erkennbar wird Zweifingerklavier, 'schamanistische' Perkussion, zirpendes Gegeige und Geflöte. Als ob nicht mehr Chrome und Wire, sondern Cholagogues und Circadian Rhythm sich auf den Plattentellern der Jungs gedreht hätten. Schwer vorstellbar. Leichter fällt es, Swissair heute als Urtyp des finnischen Freak Folk zu bestaunen.
(Rigobert Dittmann, Bad Alchemy 62, 2009, Germany)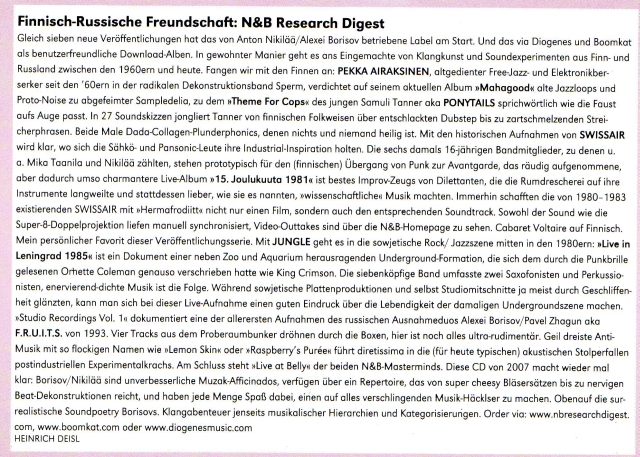 (Skug #78, 2009, Austria)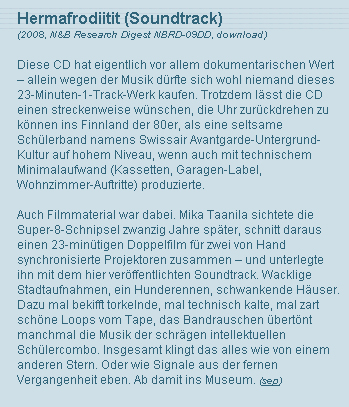 (Sebastian Pantel, Nordische Musik, 2009, Germany)

(Till Kniola, Auf Abwegen, 15.9. 2009, Germany)