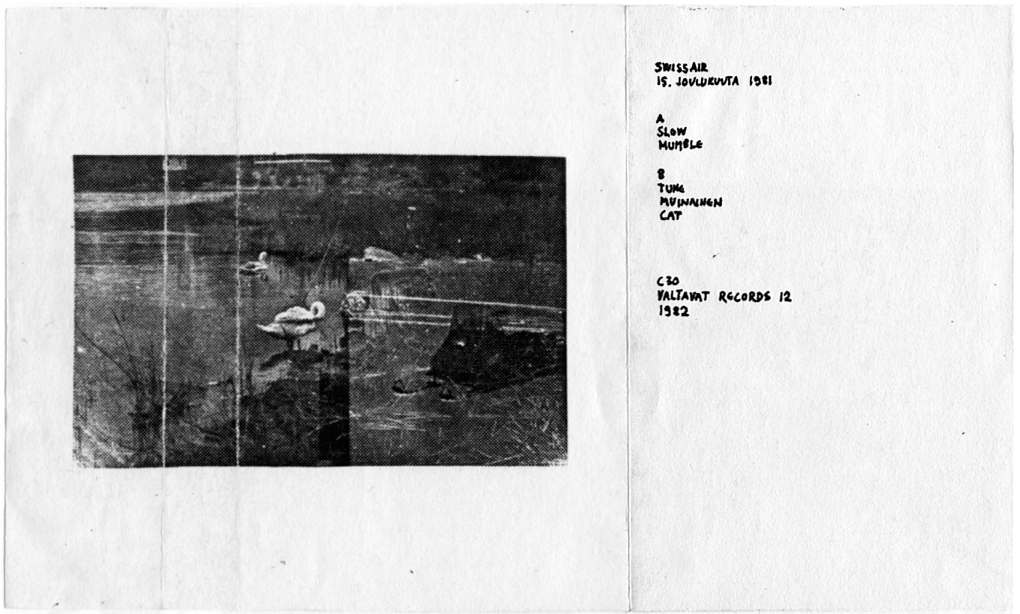 LISTEN TO PREVIEWS:
STREAM THE ALBUM FOR FREE OR BUY AS DOWNLOAD AT BANDCAMP

This is the third N&B Research Digest release dedicated to excavating the 1980's cassette culture in Helsinki. The previous two are the compilation "Pilottilasit - Samples from Helsinki Underground 1981-1987" (2000, re-released in 2008) and Swissair's "Soundtrack from the film Hermafrodiitit" (recorded in 1980-1981 and released in 2008).
"15. joulukuuta 1981" ("December 15th, 1981") was recorded during one afternoon and released in early 1982. At this point the six 16-year old members of Swissair, whose earlier music had been inspired by punk and new wave groups like PiL, Wire, Chrome and MX-80 Sound, were becoming acquainted with the history of avant-garde music and immediately started experimenting with its ideas while having practically no traditional playing skills at all.
The full arsenal of the music classroom in the high school all Swissair members went to was used in this particular session: grand piano, violins, cello, double bass, electric bass, flute, tuba, marimba, glockenspiel, snare drum, orchestral drum, some cymbals. A possible influence on the session was the idea of Portsmouth Sinfonia that had been produced by Brian Eno in the 1970's, as well as some types of free jazz, for example Paul Bley's minimal style. At least Anton Webern's music in which "silences matter as much as sounds" was actually discussed before pressing the rec button and starting to improvise. Oddly enough, the recording technique chosen for this kind of music was an early 70's portable mono cassette recorder with a lousy built-in microphone, low batteries and a cheapest available cassette. This resulted in possibly record-breaking levels of tape noise: during many quiet passages the hiss drowns out the music completely.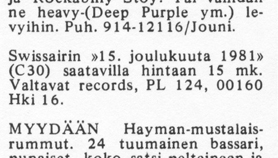 Classified ad in Soundi, March 1982
"15. joulukuuta 1981" was Swissair's final release and also the last release by Valtavat Records (despite the catalogue number 12 – cassettes numbered 13 to 18 had already been released previously). Swissair's sessions became far and between, and we abandoned not only the traditional rock instruments and forms, but also the context for the music. For the next couple of years Swissair played usually outdoors, in remote corners of public parks (preferably when deserted in early morning hours) or in suburban patches of wasteland, without recording anything. After school ended in 1984 we still played with each other in various combinations for a few years more, but never returned to the teenage extremism and polymorphous experimentation of the Swissair years. (AN)

(The Wire, March 2009, UK)
Wie sechs 16-jährige auf die Idee kommen, 'wissenschaftliche Musik' zu machen, seltsam. Anton Nikkilä, Mika Taanila, Juha Soivio, Pietari Koskinen, Jari Härkönen und Mikko Kuussaari stellten aber 1980 ihr Projekt SWISSAIR und mit Valtavat Ihmesilmälasit Records gleich auch ihr eigenes Kassettenlabel auf die Beine mit genau dieser Ambition. Dazu ließ Taanila schon eine Super-8-Filmkamera rollen. Der 23-min. Soundtrack from the film Hermafrodiitit (NBRD-09DD) gibt einen akustischen Eindruck von diesen Jugendsünden, wobei der Klangmulm in Lowest-Fidelity das Bemühen erkennen lässt, mit Gitarrengedröhn, minimalistischen Bass- und monotonen Maschinenbeats stoisch-nüchterne Statements zum alltäglichen Grau in Grau abzugeben. 15. joulukuuta 1981 (NBRD-13DD), einst eine C-30 auf dem eigenen Label, zeigt die Youngster dann ganz weit draußen als 'Neo-Primitivisten' und 'Post-Webernianer'. Die Aufnahme ist so rauschig, dass der Tapenoise eine eigene Qualität annimmt. Erkennbar wird Zweifingerklavier, 'schamanistische' Perkussion, zirpendes Gegeige und Geflöte. Als ob nicht mehr Chrome und Wire, sondern Cholagogues und Circadian Rhythm sich auf den Plattentellern der Jungs gedreht hätten. Schwer vorstellbar. Leichter fällt es, Swissair heute als Urtyp des finnischen Freak Folk zu bestaunen.
(Rigobert Dittmann, Bad Alchemy 62, 2009, Germany)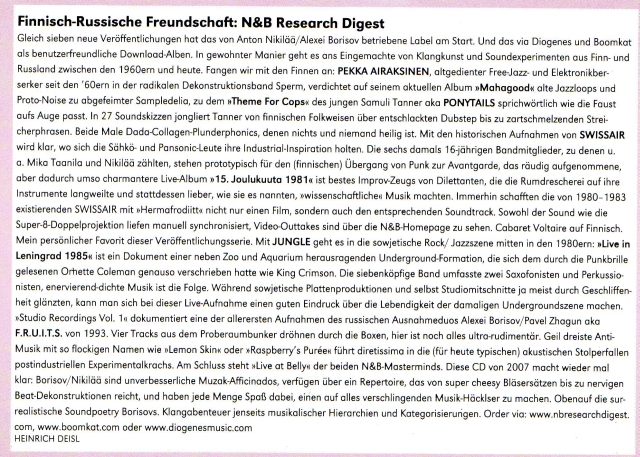 (Skug #78, 2009, Austria)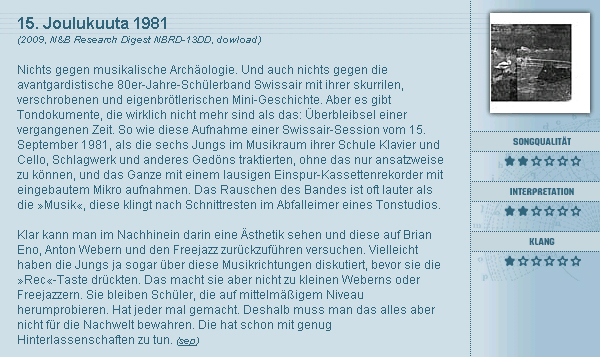 (Sebastian Pantel, Nordische Musik, 2009, Germany)