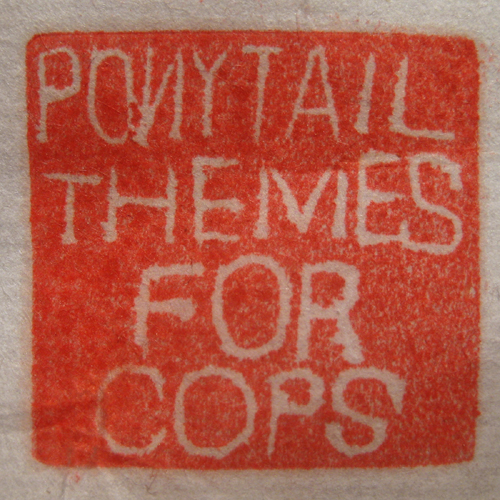 LISTEN TO PREVIEWS:
THE FULL ALBUM IS TEMPORARILY UNAVAILABLE

Ponytail aka Samuli Tanner is one of the bright young talents of Helsinki's musical underground and is internationally probably best known as one half of the dubstep production team Clouds. Ponytail's music could be called experimental dubstep or hip hop, but one that's infused with a refined anti-musicianship and roughness that has similarities with the approach of Pekka Airaksinen, the Finnish electronic music maverick of the 60's generation. In Ponytail's case the resistance to commercial slickness originates in punk rock and Finnish agrarian folk music. Samuli spent most of his teens in punk groups, and he says that his music's out-of-tuneness and wayward rhythms have first of all to do with punk spirit, but also the traditional "pelimanni spirit" of Finnish folk music – Tanner's family has spawned folk musicians for several generations. Charles Mingus and other jazz innovators of the past are sources of inspiration as well, and another trait shared with Pekka Airaksinen is the way both musicians borrow elements and sample liberally from an eclectic variety of electronic genres, but without paying dues to the conventions and meanings of the originals, which results in shockingly new and personal music.
Tuulanauhat has also released "Themes For Cops" as a CD-R which is sold only at Ponytail's gigs. Our version is one continuous 34-minute track, while the CD-R version is divided into 27 short CD tracks. Here is the back cover of the CD-R: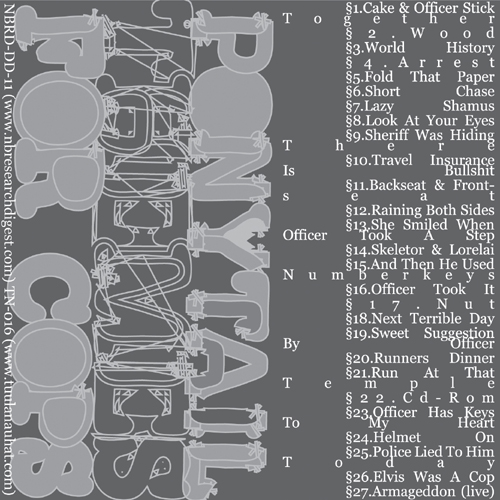 And colour version: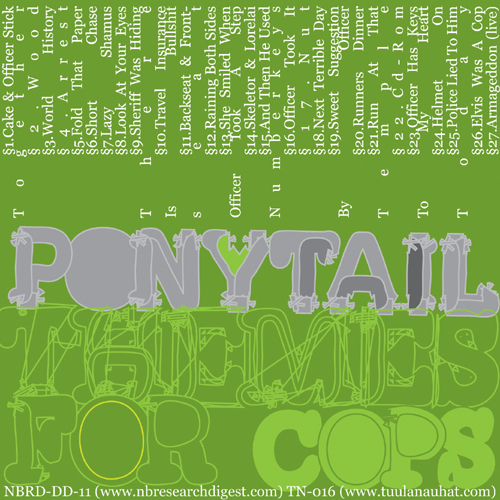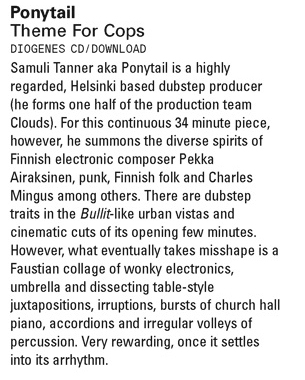 (David Stubbs, The Wire, UK, September 2008)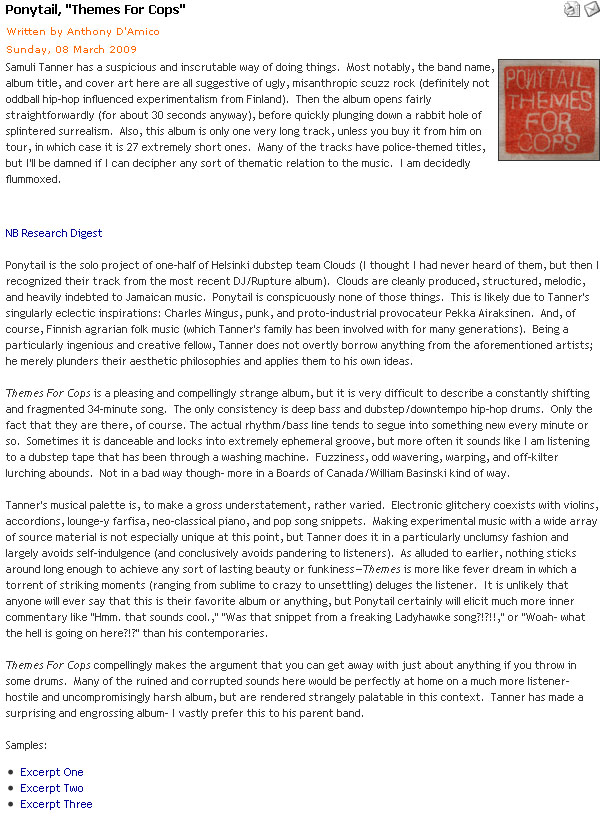 (Brainwashed, USA)
Samuli Tanner aka PONYTAIL, auch als Hälfte des Dubstep-Teams Clouds aktiv, steuert mit Themes for Cops (NBRD-10DD, auch Tuulanauhat, TN016, CD-R) eine herrlich abgedrehte Plunderphonie bei. Mit was er da wohl seinen Soundwolf gefüttert hat? Es groovt, wenn auch mit viel Gestolpere, denn der Knickknackbeat fädelt bei der geringsten Gelegenheit ein wie eine notorische Strafraumschwalbe. Akkordeon, Hammond, Fiddel, Röhrenglocken, Vibraphon, Cymbal - der Bass tupft alle Brösel auf, die in Reichweite kommen. Ein souliges "Today..." gerät in den Strudel, ein Takt dies, zwei Takte das, manches einen Tic zu schnell, anderes gedehnt, ein Chorfetzen, immer wieder Keyboards, fragmentarisch. Die Klangspirale hat viele Sprünge, viele Hänger, und loopt doch launig dahin als zappelige, rappelige Psychedelik, die sich gerade rechtzeitig noch ein Melodiechen einfängt, bevor der finale Stöpsel gezogen wird und alles im Abfluss verschwindet.
(Rigobert Dittmann, Bad Alchemy 62, 2009, Germany)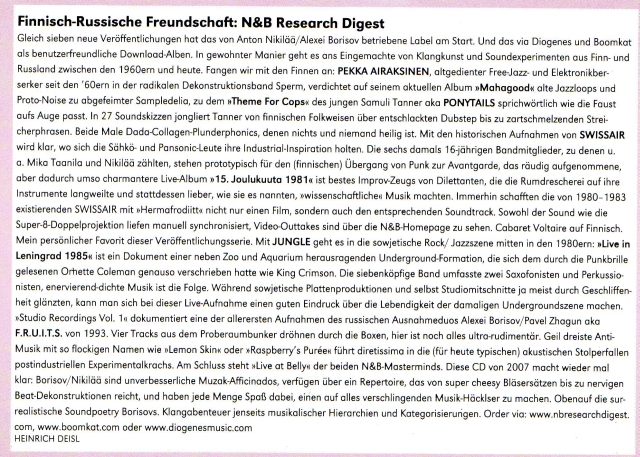 (Skug #78, 2009, Austria)