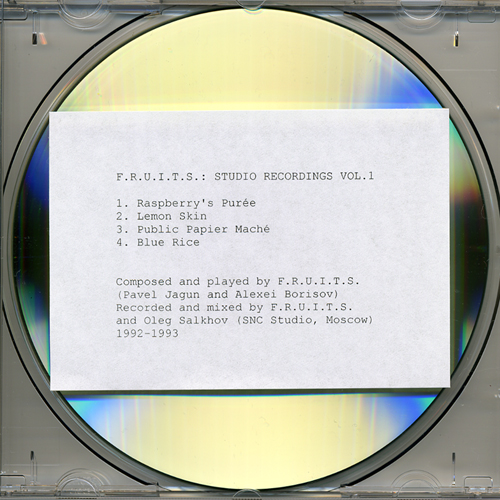 TEMPORARILY UNAVAILABLE, COMING SOON TO BANDCAMP!
F.R.U.I.T.S. is a living example of improbable career and life paths that are characteristic for contemporary Russian culture. The duo, which came together in Moscow in 1992, consists of two
multi-instrumentalists: Alexei Borisov and Pavel Zhagun. Borisov had started in the early 1980's as a guitarist in Centre, the very first Russian new wave band, and later formed his own group Notchnoi Prospekt. During the 1980's Notchnoi Prospekt went through a series of stylistic phases with each new reel-to-reel tape and vinyl album, including witty synth-pop, industrial psychedelia and guitar-based noise rock. Zhagun's background was quite different: he had started as a professional brass player in the early 1970's in the Radio and TV Orchestra of Ukraine and in the progressive rock group Bells in Kiev as well as worked as the concertmaster in the State Jazz Orchestra of Georgia. By the early 90's, however, he had become an enthusiast and aficionado of contemporary academic and electronic music.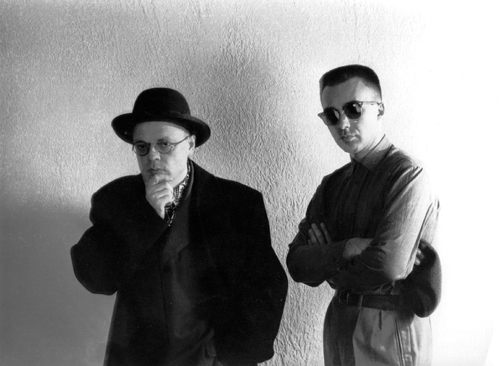 F.R.U.I.T.S. circa 1993
Together Borisov and Zhagun started to make hypnotic, musique concrète-inspired pieces on samplers, theoretised about concepts like optical sounds, "reframing", "noise reconstruction" and "no music", and put the results out on ultra-limited hand-made cassette editions (their cover art will be placed here soon).
Later the artistic evolution of F.R.U.I.T.S. led them to another surprising direction: to become possibly the oddest club/dance/techno act that has filled dancefloors in the former USSR, documented on their third CD, the live compilation "Forbidden Beat" released by Austria's Laton label in 2004. "Studio Recordings Vol. 1" is a summation of their first phase, which the Canadian music critic Francois Couture described this way in All Music Guide, after the album had come out as a CD-R in 2000: "It has the rich palette and obvious audio research of electro-acoustics, but also an immediacy, even a punkish attitude only striving (or starving) underground artists can express."

(Sergei Kosheverov, DownTown #2, 2000, Russia)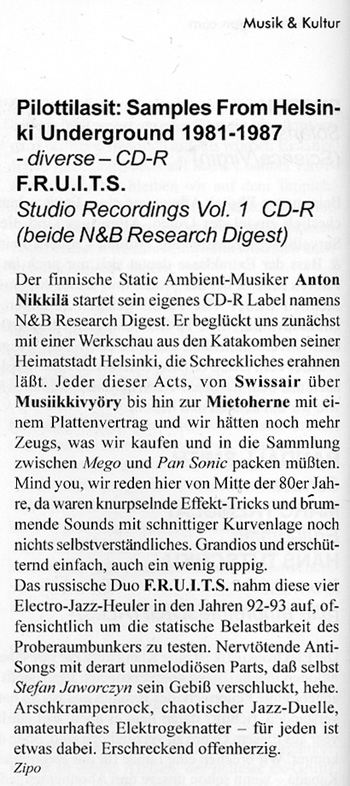 (Till Kniola, Auf Abwegen #30, Winter 2000/2001, Germany)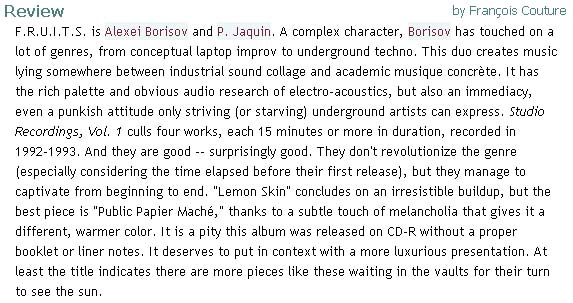 (Francois Couture, All-Music Guide, September 2002, USA)
F.R.U.I.T.S. war ein Projekt von Alexei Borisov, Nikkiläs Moskauer Partner. Selbst indiesozialisiert mit Centre und Notchnoi Prospekt, bildete er 1992 ein Duo mit Pavel Zhagun, der bis dahin im Mainstream gepaddelt hatte. Studio Recordings Vol.1 (NBRD-03DD) - ebenfalls das Wiederhören einer CD-R von 2000 - taucht zurück in ihre frühen Jahre als Low-Fi-Elektroniker. Ich sag nur deshalb nicht Noiser, weil ihrem teilweise pulsierenden Geschwurbel ein psychedelisches Moment anhaftet und, zumindest den Titeln nach, etwas Farbenfrohes - 'Rasperry's Purée', 'Lemon Skin', 'Blue Rice'. Es grummelt, trillert, schnurrt und tuckert, durchsetzt mit kaskadierendem Perkussionsgedengel und Störimpulsen. Insofern trifft doch der vierte Titel 'Public Paper Maché' die Sache am ehesten - eine schundige Pulpe aus Orchestersamples und Zooambiente für Recyclingpapier, mit der eine Druckmachine gefüttert wird.
(Rigobert Dittmann, Bad Alchemy 62, 2009, Germany)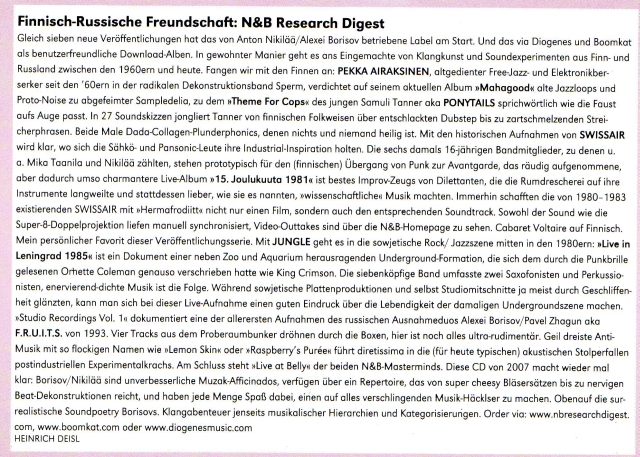 (Skug #78, 2009, Austria)