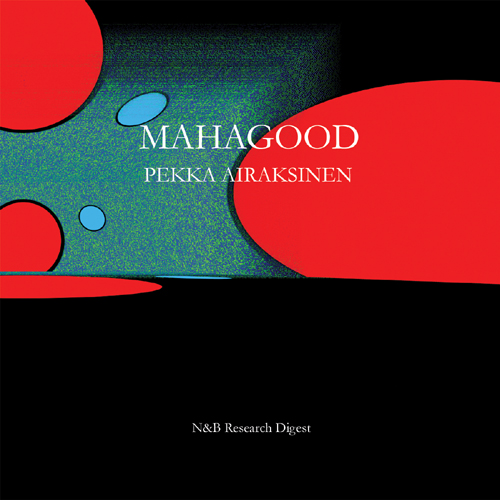 LISTEN TO PREVIEWS:
THE FULL ALBUM IS TEMPORARILY UNAVAILABLE

Pekka Airaksinen is best known as the musical mastermind behind the Finnish ultra-radical and scandalous performance group/proto-noise band The Sperm of the late 1960's. During the new millenium he has also acquired international recognition as an early pioneer of electronic experimental music. On his new album Airaksinen turns to his first musical loves – electronic music of the 1950's and jazz – as sources for sampling. The result is an improvisatory collage in which his synthetic sound of recent years combines organically with layers of history.
The album (plus four more tracks from another session) was first released in 2007 by Dharmakustannus in a tiny CD-R print run as "Good Jazz Glass Jazz". Mathieu Duval wrote in his review at myrecordcollection.org: "Easily the most spellbinding record by Airaksinen since the early Sperm years. Good Jazz, Glass Jazz is so incredibly different from his recent releases (read: from the last twenty years) that it came as a shock. The album is in the spirit of those early Fluxus sound experiments and poetry. It features tons of old cut-up jazz records (à la Milan Knizak) layered and deconstructed to the point of being barely recognizable. The results are strange and alluring. Like a car accident, the listener becomes fascinated with the mangled, chaotic aspect of the music. Some of these even border on noise (My Tongue Swore, My Mind Didn't) while some are squarely ambient (Why All This Prelude)."

(Helsingin Sanomat, Finland, 10.6. 2008)
PEKKA AIRAKSINEN ist Kult. Als einer der Geheimtips auf der "Nurse With Wound-Liste" (seine LP One Point Music von 1970) wurde er erstmals Nichtfinnen als Floh ins Ohr gesetzt. Mit Madam I'm Adam (2003) bot N&B einen retrospektiven Querschnitt seiner wilden Phantasie. Mahagood (NBRD-12DD) aka Good Jazz Glass Jazz (Dharmakustannus, CD-R, 2007), ist eine Plunderphonie, die, wenn auch von Fluxus-Geist durchweht, weit über den Vinylverschnitt etwa eines Milan Knizak hinausgeht. Zwar loopt Airaksinen permanent jazzige und orchestrale Schnipsel, schafft aber mit rollenden, pulsierenden Drum- & Basslinien oder mit Streicherwellen ('Waves Follow Waves') aus Schnitten jeweils ein Kontinuum, oft entspannt, bei 'My Tongue Swore, My Heart Didn't' aber komprimiert und beschleunigt. Herzerfrischend ist das und völlig staubfrei.
(Rigobert Dittmann, Bad Alchemy 62, 2009, Germany)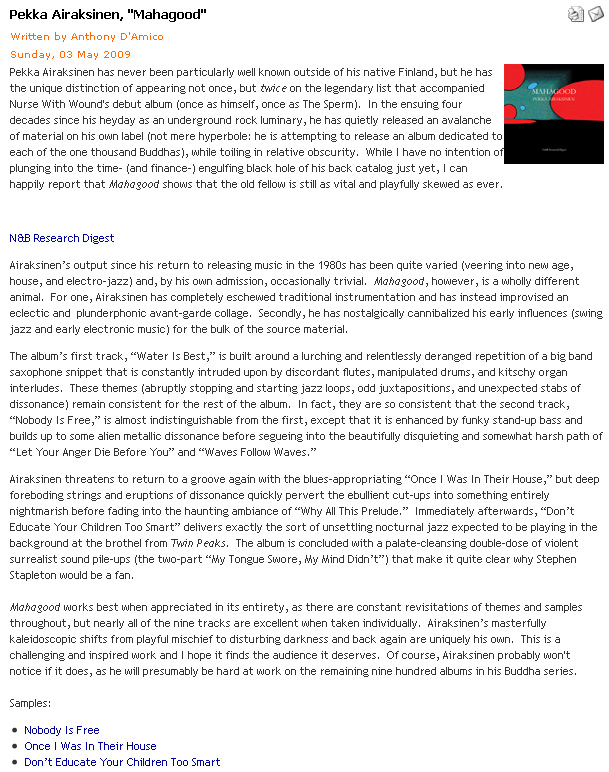 (Brainwashed, USA)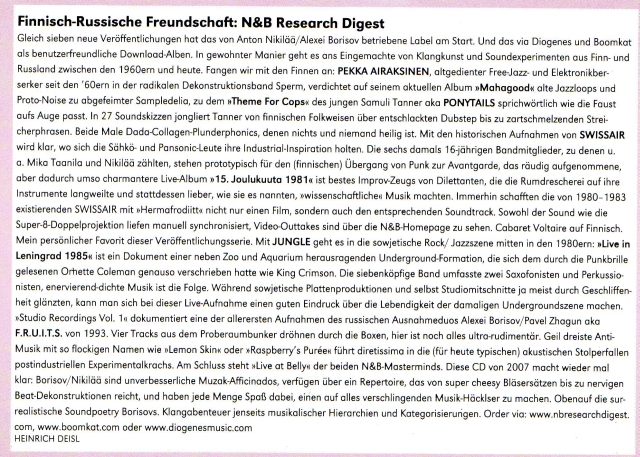 (Skug #78, 2009, Austria)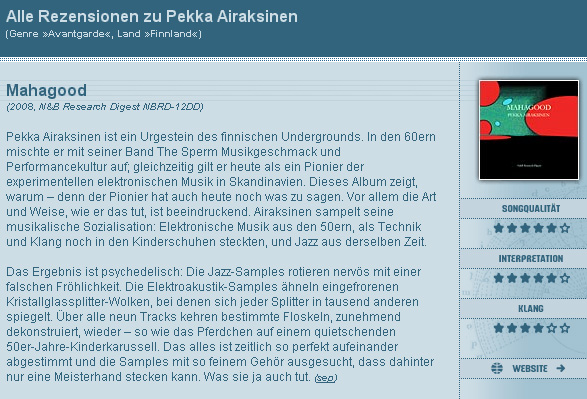 (Sebastian Pantel, Nordische Musik, 31.5. 2009, Germany)