<![if !supportEmptyParas]> <![endif]>
N&B Research Digest presents                                               Pусская версия
<![if !supportEmptyParas]> <![endif]>
<![if !supportEmptyParas]> <![endif]>
<![if !supportEmptyParas]> <![endif]>
<![if !vml]>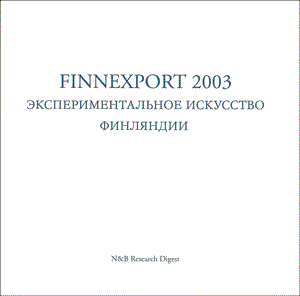 <![endif]>
<![if !supportEmptyParas]> <![endif]>
<![if !supportEmptyParas]> <![endif]>
Finnexport 2003 is a touring micro-expo of Finnish experimental music, photography and moving image. The first live event will be organized on June 19th in Cultural Centre DOM in Moscow, where the photography section of Finnexport 2003 will remain on display until June 22th. The second live event will be held on June 21th in Yaroslavl Art Museum.
<![if !supportEmptyParas]> <![endif]>
The music programme consists of three live acts.

Pan sonic is the leading name in new Finnish electronic music, who immediately drew the world's attention to the Finnish scene with their debut cd "Vakio" in 1995. It can be said that they created a whole new genre with their pioneering works. Their closest musical precursor is probably the Finnish inventor and composer Erkki Kurenniemi, whose music from the 1960's was re-discovered at Avanto Helsinki Media Art Festival in 2002. Along with Mika Taanila's documentary "The Future Is Not What It Used To Be" and the coinciding release of Kurenniemi's retrospective compilation cd, the Finnish audience witnessed a live performance of Pan sonic together with Kurenniemi, which will also be repeated at this year's Venice Biennale. Besides constantly touring on their own, Pan sonic are now working on a new album.

Alexei Borisov & Anton Nikkilä is a duo consisting of two veterans of experimental scenes in Moscow and Helsinki, their respective home cities. Their itineraries have been in many ways similar, coming from absurdities'n'apocalypses post-punk through formalist and futurist anti-techno into poetic digital noise, while simultaneously carrying, cross-pollinating and subverting a multifarious cultural baggage of their own. Borisov and Nikkilä are better known from other projects, but they have collaborated since 1994 between Russia and Finland and appeared as a duo both live and on various compilation cd's. They are now working on their first cd as Alexei Borisov & Anton Nikkilä.

The audiovisual trio Pink Twins represent a younger generation of Helsinki's electronic music, which has since around the year 2000 formed into an active scene with several annual festivals, regular club events, concert series and small labels. Since their debut in front of a large audience at Avanto Festival in 2000 Pink Twins have released three cd's, held four exhibitions and started to tour actively around Europe playing their improvised laptop noise spiced with live free-rock guitar, sweet sampled melodies and chaotic videos.


"Yes, But... This Is Different! - Sound driven films and videos from Finland" is a programme curated by Tiina Erkintalo for Finnexport 2003 and features the following works:

Pekka Sassi: Cobol, 2003. Music Anton Nikkilä. 4'.
Eino Ruutsalo: Kaksi kanaa, 1963. Music Otto Donner. 3'20.
Erkki Kurenniemi: Electronics in the World of Tomorrow, 1968. Music Erkki Kurenniemi. 4'30
Pekka Sassi: 12-IV 1961, 1999. 2'
Mika Taanila: Physical Ring, 2001. Music Mika Vainio. 4'40
Liisa Lounila: Pop Corn, 2001. Music Nu Science. 4'30.
Pink Twins: Paini, 2001. Music Pink Twins. 3'.
Samuli Alapuranen: Silmukka, 2002. 3'05.
Elina Katara: Himojen puutarhassa, 2003. Music Vapaat muurahaiset. 1'20.
Mika Taanila: Verbranntes Land, 2002. Music Kiila. 6'20.
Juha van Ingen: (Dis)integrator, 1992. 4'.

This eclectic mix presents works which explore the possibilities of sound combined with moving image, most of them using electronic music as the soundtrack. Common strategy for many of the artists featured is to focus on the irregularities, disturbances and flaws in digital or celluloid imagery. Many of the works manifest the pure aesthetic pleasure that can be derived from the material itself with no reference to the symbolic, while others recycle and reorganise existing material in order to look for new meanings.

The programme includes two rarely seen masterpieces from the 60s: the pioneer avantgarde filmmaker Eino Ruutsalo's (1921-2001) "Kaksi kanaa" (1963) is a breathtaking collage of spontaneously compiled waste footage painted with thick layers of bright colours and topped with a refined electroacoustic score by composer Otto Donner. Another gem is "Electronics In the World of Tomorrow" (circa 1964-2003) by Erkki Kurenniemi, who recently completed this originally silent film with his own music from the same time.


The photo exhibition of Finnexport 2003 is made up of works by three documentary photographers, who interpret their tradition in new, idiosyncratic ways.

Anne Hämäläinen (b. 1966) has been documenting since 1999 the vanishing Soviet aesthetics of everyday life in Moscow: interior decor of people's homes, consumer products, and most notably small garages made of pig-iron. The project is a work-in-progress, so far the project has been showcased in one solo exhibition, "Romance", and two group shows, all in Helsinki. Now Hämäläinen is compiling a book on her subject.

Marko Hämäläinen's (b. 1972, not related to Anne Hämäläinen) work-in-progress is the documentation of hot dog stands around Finland, another vanishing phenomenon. The project has been exhibited as a private show ("With All the Trimmings") and parts of it in group shows in Finland and Germany.

Hanna Weselius (b. 1972) is specialized in "non-places" (gas stations, roadside wastelands) somewhere between countryside and cities and in the people inhabiting them. Her latest private exhibition "Invincible Lupins", shown previously in Finland and Estonia, is centred around this theme.



June 19 at 19:30, Cultural Center Dom, Moscow (exhibition open until June 22)
June 21 at 17:00, Yaroslavl Art Museum



Organized by N&B Research Digest in co-operation with the Finnish Embassy in Moscow. Supported by the Arts Council of Finland, The Promotion Centre for Audiovisual Culture (AVEK) and the Ministry of Education of Finland.
<![if !supportEmptyParas]> <![endif]>
<![if !supportEmptyParas]> <![endif]>
<![if !supportEmptyParas]> <![endif]>
<![if !supportEmptyParas]> <![endif]>
<![if !supportEmptyParas]> <![endif]>
<![if !supportEmptyParas]> <![endif]>
<![if !supportEmptyParas]> <![endif]>